SWOT Analysis of Microsoft focuses on Strengths, weaknesses, opportunities, and threats. Strength and Weakness are the internal factors and Opportunities and Threats are the external factors that influence the SWOT Analysis of Microsoft.
Strengths are defined as the best thing every company does in its range of activities that can give it hold on its competitors. Weaknesses are used in areas in which improvement of the business or brand is necessary. Opportunities are the environmental avenues around the enterprise that can be used to increase its income. Threats are environmental factors that can adversely affect business growth.
Microsoft is a multinational American corporation. Microsoft business are operating systems, computer software, personal computers, mobile phones, consumer electronics and other related services. Micorosft headquarters is located at Washington, U.S.
Microsoft is one of the world's most powerful technological companies. Microsoft Windows Operating System is one of the most user-friendly operating systems, and is one of the reasons for its widespread adoption and use. This is also one of the reasons why Microsoft is one of the most difficult brands to compete with in the software business. Its Office suite and operating system have given Microsoft a virtual monopoly on the market. Microsoft has captured a large market in Technology segment. Microsoft Outlook, Microsoft Excel and Microsoft Word are some of the most popular applications. These applications makes the life easier.
Microsoft has about 182268 employees. Revenue of Microsoft is about US$ 161 billion.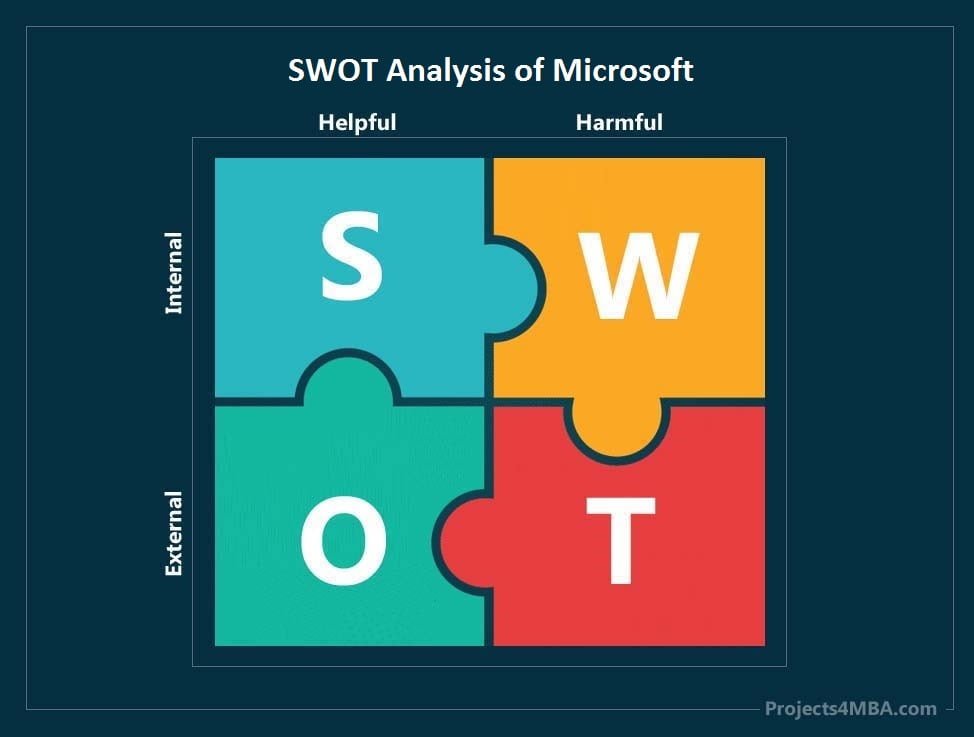 Strength in the SWOT Analysis of Microsoft – Microsoft SWOT Analysis
Strong Brand Image: Microsoft is a well-known brand that operates through regional subsidiaries across over 100 countries to reduce cultural variations. Microsoft Corporation (Microsoft) is a prominent provider of software, hardware, and services. The company's primary focus is on creating, producing, licensing, selling, and supporting software products all over the world.
Innovation, Research and Development: Microsoft is a technologically proficient corporation that has long been recognized as a catalyst in the technology industry. Prioritizing innovation and optimization through active research and development. When it comes to research in computer science, Microsoft Research is a global leader. It works closely with leading institutions across the globe, collaborating to enhance computer science's current state.
Strong Product Portfolio: The Microsoft product portfolio encompasses a broad variety of software and services, as well as hardware solutions for a wide range of client classes, allowing the company to maintain a dominant market position. Microsoft earns money through creating, producing, licencing, and supporting software and services for a wide range of computer devices. Microsoft also offers consultancy, product and solution support, and training and certification for computer system integrators and developers.
Distribution system: The company maintains a robust distribution and marketing network that helps it to achieve superior operational performance. Microsoft promotes and sells its goods primarily via three channels: OEMs (Original Equipment Manufacturers), distributors and resellers, and internet (through own virtual store & E-commerce sites).
The world's leading operating system: Microsoft's operating system is one of the company's most significant advantages. Despite the fact that it is part of Microsoft's product range, and despite the fact that people love to point out flaws in Microsoft OS, it is still one of the finest computer operating systems in the previous few decades.
Good ROI: Microsoft is relatively successful at the execution of new projects and it generates good profits through its existing business. The company is generating a good Return on its investments.
Good Training and Development Programmes for its Employees: High-level personal skills can be acquired through training and development programmes. Microsoft Inc is providing continuous training and development of its employees resulting in an enthusiastic and motivated team.
Weaknesses in the SWOT Analysis of Microsoft – Microsoft SWOT Analysis
Legal proceedings: Microsoft is a defendant in a number of unresolved lawsuits brought against it by other parties. Many legal battles have been waged over product design, production, and performance, as well as other matters such as contracts, employee concerns, and intellectual property rights. It's hard to keep track of all of them.
It is unable to regulate counterfeit software in emerging nations: It is unable to prevent the unlawful use of their software, particularly operating systems, in developing nations such as China, India, and others.
Customer Dissatisfaction: Customers of Microsoft frequently express dissatisfaction with the company's lack of innovation, which they attribute to the company's widespread use. Customers say that Microsoft constantly improving its products, but that the company is failing to provide anything new from the bottom up. On the subject of operating system capabilities, Apple has a significant advantage over Microsoft. As a result, Apple is gradually becoming the preferred operating system.
Bugs and Vulnerabilities: Hackers are using Bugs and Vulnerabilities in Microsoft applications to get into network. Microsoft is working to resolve Bugs and Vulnerabilities to make its app more secure.
Opportunities in the SWOT Analysis of Microsoft – Microsoft SWOT Analysis
Shifting to the Razor & Blade model: Rather than selling costly software, Microsoft may concentrate on the Blade & Razor model to combat unlawful usage of their software, particularly their operating system, and so make more income.
Strategic Collaborations: Microsoft may concentrate on forming new collaborations for the creation of innovative and technologically sophisticated goods and services to further its growth. Such collaborations provide Microsoft a competitive advantage and enable the company to gain a significant amount of market share. The firm introduced nine new hardware partners for its Windows Phone. The partners give direct access to its tools, broadening its appeal to consumers and launching new pricing points in many important growth areas.
Mobile Phone Demand: Mobile phone demand is increasing, and Microsoft is well positioned to take advantage of this trend, which is emerging as a significant development potential in both developed and developing countries alike.
Digital Transformation: Spending on Digital Transformation Technologies is growing. And the company has begun to focus on providing digital transformation services, which can benefit in terms of increasing global investment.
Cloud-Based Computing: Demand for cloud-based solutions is increasing, as cloud computing has altered the fundamental nature of computing. The worldwide expenditure on cloud services is estimated to grow at a rapid pace by 2025, according to industry estimates. Microsoft, which has a sizable presence in the cloud computing market, stands to benefit from the growing demand.
Concentrate on emerging markets: Microsoft should concentrate its efforts on emerging markets, which are expected to generate significant revenue for IT services and consulting firms in the future. Microsoft should not fall behind.
Threats in the SWOT Analysis of Microsoft – Microsoft SWOT Analysis
Intense Competition: The software market is extremely competitive, which may have an influence on the performance of the firm. In all of its business sectors, the firm encounters fierce competition. Apple, Google, and Yahoo! are the company's primary competitors in software and services market. Google (Chrome), Apple (Safari), Mozilla, and Opera Software Company all have browsers that compete with Microsoft's Internet Explorer. The company's server and tools offerings compete with those offered by IBM and Oracle in the same market segment.
Technology Change: The technology world is always evolving. Companies often wind up destroying their own offerings long before the competition does the same to them.
Software Piracy: This is the most significant threat that the firm faces on the software front. Every year, companies lose billions of dollars as a result of the widespread distribution of pirated copies around the world. Microsoft suffers considerable income losses as a result of a piracy rate of 30 percent or more in some regions. Additionally, developing countries such as India, China, and others make for a significant portion of the market for unauthorized usage of Microsoft's products.
Liability Laws: The liability laws in different countries are different, and Microsoft may be exposed to various liability claims.
Volatile World Markets: Because of the volatile world financial markets, Microsoft is exposed to volatile international macro-economic indicators.
If you like this article you can recommend your friends about PROJECTS4MBA.COM
If you like This Article Please Like our Facebook Page PROJECTS4MBA
Cite This Work
Referencing Style to cite this article: