This article is on Top MBA Colleges In India-Best MBA Colleges In India. We all know MBA degree unlocks great opportunities. This is the secret to jobs in an impressive range of corporations and organizations around the world because you can automatically be recognized by the corporate community in excellent leadership and management skills once you receive the MBA degree. In addition, you'll benefit from a network of fellow students, faculty, and alumni who will also help you develop your career. In addition, MBA graduates 'salaries are usually higher than those of other postgraduates or specialized degrees. Those in fields such as medicine, law, teaching, engineering, and the arts should also seek an MBA as it will give them the management and business skills they need to step into leadership positions and succeed in their chosen career areas. Today I compiled the list of India's top 106 B schools, or rather, India's MBA colleges. This list presented top MBA colleges in India. A thorough study involving contributions from various stakeholders in B-schools, including recruiters, faculty, and students, was conducted to rank the best 100 B-schools of the country. A complete list of B-schools for those offering two years PGDM and MBA was initially prepared.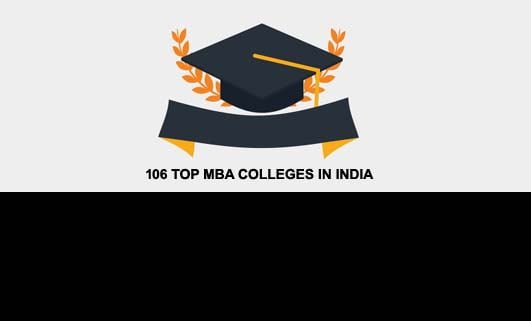 The criteria considered during the B-school rankings were considered in the light of various factors such as tuition, placements, location, entrepreneurial potential, growth plans, faculty training, average packages provided during placement, and schools 'willingness to engage students in research and also to give them an exposure to the industry. A score was obtained on the basis of the above parameters. In addition, if there were a tie between two business colleges on the same score, they were both given the same rank.
It should be noted that the different institutions under the umbrella of the Indian Institute of Management (IIMs) are included in the ranking because we wanted to add B-schools including IIMs to our readers, which also provide quality education for the nation's building blocks. We also wish to inform you that India's Management Institutes remain one of the country's top business schools.
List of Top MBA colleges in India – Top B-Schools of India  are As Follows:
| | | |
| --- | --- | --- |
| Rank | Name Of the Institute | Location |
| 1 | Indian Institute of Management (IIM) | Ahmedabad |
| 2 | Indian Institute of Management (IIM) | Bangalore |
| 2 | Indian Institute of Management (IIM) | Calcutta |
| 3 | Indian School of Business (ISB) | Hyderbabad |
| 4 | Indian Institute of Management (IIM) | Lucknow |
| 5 | Xavier School of Management | Jamshedpur |
| 5 | Management Development Institute (MDI) | Gurgaon |
| 6 | S P Jain Institute of Management & Research (SPJIMR) | Mumbai |
| 7 | Department of Management Studies (DMS), IIT Delhi | Delhi |
| 8 | Faculty of Management Studies (FMS) University of Delhi | New Delhi |
| 9 | Indian Institute of Foreign Trade (IIFT) | New Delhi |
| 10 | Shailesh J. Mehta School Of Management IIT-Bombay | Mumbai |
| 11 | Narsee Monjee Institute of Management Studies (NMIMS) | Mumbai |
| 12 | Symbiosis Institute Of Business Management (SIBM), Pune | Pune |
| 13 | National Institute of Industrial Engineering (NITIE) | Mumbai |
| 14 | Vinod Gupta School Of Management- IIT Kharagpur | Kharagpur |
| 15 | Institute of Management Technology (IMT), Ghaziabad | Ghaziabad |
| 16 | Xavier Institute of Management (XIMB) | Bhubaneswar |
| 17 | International Management Institute (IMI) | New Delhi |
| 18 | Department Of Management Studies- Indian Institute of Technology Madras | Chennai |
| 19 | Jamnalal Bajaj Institute of Management Studies (JBIMS) | Mumbai |
| 20 | T A Pai Management Institute (TAPMI) | Manipal |
| 21 | Symbiosis Centre for Management and Human Resource Development (SCMHRD) | Pune |
| 22 | Great Lakes Institute of Management | Chennai |
| 23 | Indian Institute of Technology Kanpur – Department of Management Studies | Kanpur |
| 24 | Indian Institute of Technology Roorkee – Department of Management Studies | Roorkee |
| 25 | Institute of Rural Management, Anand (IRMA) | Anand |
| 26 | Goa Institute of Management (GIM) | Panaji |
| 27 | Birla Institute of Management Technology (BIMTECH) | Greater Noida |
| 27 | ICFAI Business School | Hyderabad |
| 28 | K. J. Somaiya Institute of Management Studies and Research | Mumbai |
| 29 | Institute of Management, Nirma University | Ahmedabad |
| 30 | Birla Institute of Technology and Science (BITS) | Pilani |
| 31 | Lal Bahadur Shastri Institute of Management (LBSIM) | New Delhi |
| 32 | Prin. L.N. Welingkar Institute of Management Development & Research | Mumbai |
| 33 | Department Of Management Studies- University of Madras | Chennai |
| 34 | Loyola Institute of Business Administration (LIBA) | Chennai |
| 34 | Sydenham Institute of Management Studies Research and Entrepreneurship Education (SIMSREE) | Mumbai |
| 35 | Institute For Financial Management & Research (IFMR) | Chennai |
| 36 | KIIT School of Management KIIT University | Bhubaneswar |
| 37 | FORE School of Management | New Delhi |
| 38 | Institute For Financial Management & Research (IFMR) | Chittoor |
| 39 | PSG Institute of Management (PSGIM) | Coimbatore |
| 40 | Amity Business School | Noida |
| 41 | Department of Management Studies- National Institute of Technology Tiruchirappalli (DoMS-NIT Trichy) | Tiruchirappalli |
| 42 | Bharathidasan Institute of Management (BIM) | Tiruchirappalli |
| 43 | National Institute of Agricultural Extension Management (MANAGE) | Hyderabad |
| 44 | Institute of Public Enterprise (IPE) | Hyderabad |
| 45 | Balaji Institute of Modern Management (BIMM) | Pune |
| 46 | Indian Institute of Forest Management (IIFM) | Bhopal |
| 47 | Symbiosis Institute of International Business (SIIB) | Pune |
| 48 | Vellore Institute Of Technology VIT Business School | Vellore |
| 49 | Xavier Institute of Management & Entrepreneurship (XIME) | Bangalore |
| 50 | SIES College of Management Studies (SIESCOMS) | Navi Mumbai |
| 51 | Institute Of Management Technology | Nagpur |
| 52 | Christ University Institute of Management | Bangalore |
| 53 | Narsee Monjee Institute of Management Studies (NMIMS) | Bengaluru |
| 54 | Symbiosis Institute of Operations Management (SIOM) | Nashik |
| 54 | University Business School, Punjab University | Chandigarh |
| 55 | Anna University, Chennai | Chennai |
| 55 | Rajagiri Centre for Business Studies | Cochin |
| 56 | Jagan Institute of Management Studies | Delhi |
| 56 | Institute of Management Studies- Banaras Hindu University | Varanasi |
| 57 | Indira Institute of Business Management (IIBM) | Navi Mumbai |
| 58 | Gitam Institute Of Management | Visakhapatnam |
| 59 | Shri Dharmasthala Manjunatheshwara Institute for Management Development (SDMIMD) | Mysore |
| 60 | School Of Management Studies, Motilal Nehru National Institute Of Technology, Allahabad (MNNIT) | Allahabad |
| 60 | SCMS Cochin School Of Business | Cochin |
| 61 | Institute of Management Studies (IMS) | Ghaziabad |
| 62 | Department of Management Studies Indian School of Mines | Dhanbad |
| 62 | Symbiosis Institute Of Business Management | Bangalore |
| 63 | Acharya Institute of Management & Sciences (AIMS) | Bangalore |
| 64 | N L Dalmia Institute Of Management Studies & Research | Mumbai |
| 64 | ITM Business School | Mumbai |
| 65 | Indus Business Academy (formely Indian Business Academy) | Bangalore |
| 66 | Symbiosis Institute of Telecom Management | Pune |
| 67 | Jaipuria Institute of Management | Lucknow |
| 68 | Jindal Global Business School | Sonipat |
| 69 | Department of Business Economics, Delhi University | Delhi |
| 70 | L.N Welingkar Institute of Management Development & Research | Bangalore |
| 71 | Institute of Management Technology (IMT) | Hyderabad |
| 71 | Punjab College of Technical Education (PCTE) | Ludhiana |
| 72 | IILM Institute for Business & Management | Gurgaon |
| 73 | Thiagarajar School of Management | Madurai |
| 73 | IES Management College & Research Centre | Mumbai |
| 73 | Lovely Professional University | Jalandhar |
| 74 | Indian Institute of Social Welfare and Business Management (IISWBM) | Kolkata |
| 74 | School of Management, Manipal University | Manipal |
| 74 | Jagannath International Management School | Delhi |
| 75 | Prestige Institute of Management & Research | Indore |
| 76 | Jaipuria Institute of Management | Noida |
| 76 | Balaji Institute of Management and Human Resource Development (BIMHRD) | Pune |
| 76 | Kirloskar Institute Of Advanced Management Studies (KIAMS) | Harihar |
| 76 | Bharati Vidyapeeth's University Institute of Management Studies & Research | New Delhi |
| 77 | Balaji Institute of Telecom and Management (BITM) | Pune |
| 77 | Koneru Lakshmaiah Education Foundation University | Vaddeswaram |
| 77 | Symbiosis Institute of Business Management | Hyderabad |
| 78 | Chitkara Business School, Rajpura | Rajpura |
| 79 | International School of Business & Media (ISB & M) | Pune |
| 80 | Fortune Institute of International Business (FIIB) | New Delhi |
| 81 | M. S. Ramaiah Institute of Management | Bangalore |
| 82 | Institute of Health Management Research | Jaipur |
| 82 | GITAM School Of International Business | Visakhapatnam |
| 83 | Foundation For Liberal And Management Education (FLAME) | Pune |
| 84 | International Management Institute, Bhubaneswar | Bhubaneswar |
| 85 | Lala Lajpat Rai Institute of Management | Mumbai |
| 86 | Apeejay School Of Management | Delhi |
| 87 | MAEER's MIT School of Business | Pune |
| 88 | G. L. Bajaj Institute of Management and Research | Greater Noida |
| 89 | Vignana Jyothi Insitute of Management (VJIM) | Hyderabad |
| 89 | Universal Business School | Mumbai |
| 90 | SRM School of Management | Chennai |
| 90 | Institute of Technology and Science | Ghaziabad |
| 91 | Jaipuria Institute of Management | Jaipur |
| 92 | Pune Institute Of Business Management | Pune |
| 93 | Prestige Institute of Management | Gwalior |
| 93 | JK Business School | Gurgaon |
| 94 | Institute of Management & Information Science (IMIS) | Bhubaneswar |
| 94 | Doon Business School | Dehradun |
| 95 | Acharya's Bangalore B School (ABBS) | Bangalore |
| 95 | Faculty Of Management, Manav Rachna International University (MRIU) | Faridabad |
| 96 | Aurora's Business School | Hyderabad |
| 96 | Regional College of Management (RCMA) | Bhubaneswar |
| 97 | Balaji Institute of International Business (BIIB) | Pune |
| 97 | Institute of Rural Management | Jaipur |
| 97 | Siva Sivani Institute of Management | Hyderabad |
| 98 | IMS Unison University | Dehradun |
| 99 | Dr. V N Bedekar Institute of Management Studies | Thane |
| 99 | KCT Business School | Coimbatore |
| 100 | Padmashree Dr. D. Y. Patil University Department Of Business Management | Mumbai |
| 101 | Jaipuria Institute of Management Vasundhara | Ghaziabad |
| 102 | Kristu Jayanti College Of Management & Technology | Bangalore |
| 103 | Jaipuria Institute of Management | Indore |
| 104 | Indian Institute of Finance | Noida |
| 105 | International Institute of Management Studies | Pune |
| 106 | ICBM – School Of Business Excellence | Hyderabad |