SWOT Analysis of Tissot focuses on Strengths, weaknesses, opportunities, and threats. Strength and Weakness are internal factors and Opportunities and Threats are the external factors that influence the SWOT Analysis of Tissot. Tissot is a well-known watchmaking firm situated in Switzerland that was founded in 1853. It is a subsidiary of the Swiss Swatch Group, which is the world's largest watch producer and distributor. The plus symbol in TISSOT's emblem signifies the Swiss quality and reliability that has been present in the company's store since its inception.
Tissot watches are offered in around 160 countries, and its designs are realistic, accessible, and made from distinctive materials. Its designs also incorporate advanced functionality and careful design, and it is sold in around 160 countries. The company stands by its trademark and is regarded as being an industry pioneer. The brand's exceptional level of quality has been continuously recognized.
They are also involved in a variety of other sports, including cycling (UCI World & Tour de France), basketball (CBA, NBA, and FIBA), racing (MotoGP), and many more. They are known as official timekeepers. The company combines cutting-edge design with cutting-edge watchmaking technology, and it has fundamentally changed people's perceptions of watches today.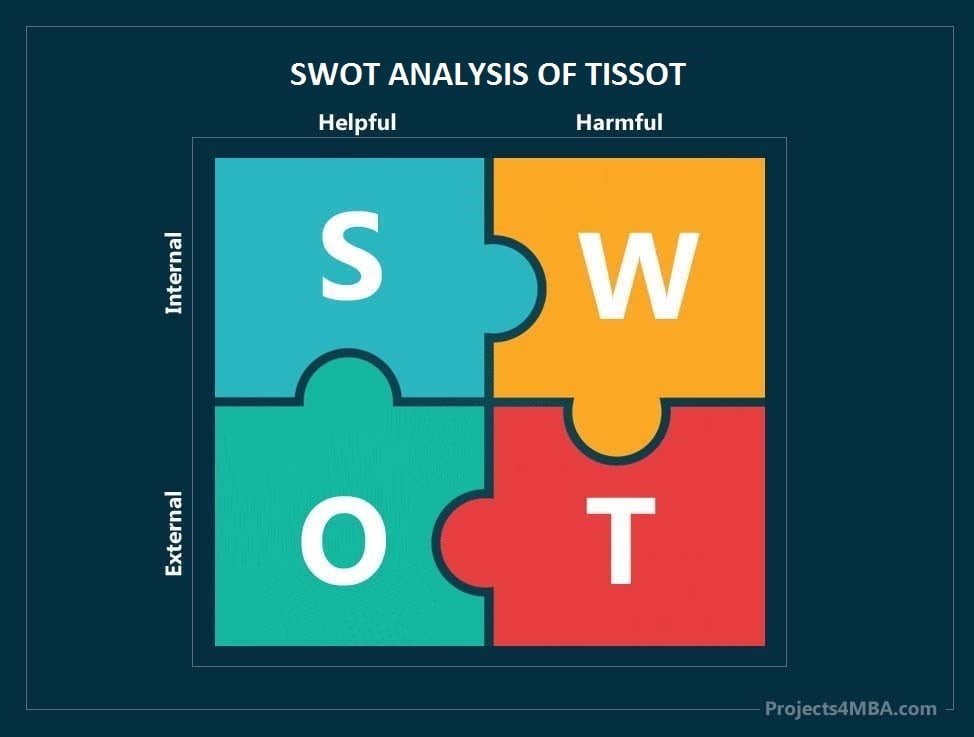 Strengths in the SWOT Analysis of Tissot – Tissot SWOT Analysis
History & Technology: Tissot developed the first pocket watch with two time zones in 1853, and the same business introduced the first anti-magnetic watch the following year in 1854. The company was also the first to produce watches made of materials like plastic, stone, pearl, and wood, among others. In addition, in 1999, it released its first tactile watch featuring T-Touch technology. In this technology, touch-sensitive sapphire crystals are utilized to operate a number of functions such as the barometer, compass, thermometer, and altimeter, among others. The Tissot T-Touch series models, such as the T-Touch Expert Solar and T-Touch Lady Solar, include 25 functions.
Broad Collection: The Tissot collection contains a broad range of watches for both men and women. Many people admire the brand's timepieces because of their conventional design and practicality. Tissot's watch quality is exceptional in order to attract larger customers.
Fashion Statement: In addition to being viewed as a badge of refinement when worn, the label is also regarded as the ultimate fashion statement for those who chose to wear it.
Collaborations: Tissot has established collaborations with a diverse spectrum of celebrities, including actresses, basketball players, cricketers, and MotoGP racers, to serve as brand ambassadors. As a result, the brand has received worldwide awareness and achieved remarkable success.
Customer Support: The company is always available to its clients. If a customer has any problems with their watch, they can easily find a service center to get it repaired. Tissot is a subsidiary of the Swatch Group, with a global presence in about 160 countries.
New Technology: Augmented reality, the most modern technology, has proven to be a big success and is immensely popular across the world. Tissot is using modern technology for its production.
Official Timekeeping: Over the years, the Tissot brand has acted as the official timekeeper for a number of athletic events.
Target Segments: Tissot's comprehensive market segmentation, which includes divisions like as youth, women, children, athletes, heavy spenders, and the budget-conscious, covers all of these groups.
Achievements: Tissot has worked with Europe's highest railway station, which is located 3454 meters above sea level.
Weaknesses in the SWOT Analysis of Tissot – Tissot SWOT Analysis
Basic & Simple Design: The brand's design is overly simplistic, and it is usually easily replicated.
Environment Rating: Tissot has been recognized by the World Wide Fund for Nature (WWF) for taking a number of efforts to reduce the impact of its manufacturing activities on climate change and the environment.
Limited Market Share: The tremendously competitive market has resulted in a limited gain in market share for the Tissot company, which has limited market share growth.
Opportunities in the SWOT Analysis of Tissot – Tissot SWOT Analysis
Expanding into New Categories: In order to better serve its clients, Tissot has extended into new categories that are best suited to Tissot watches. It has a wide range of corporate gift categories.
Emerging Economies: People's excessive spending habits in developing economies may be easily exploited. This provides the organization with a new way to raise income and enhance its financial condition.
Increased Advertising: Spending more money on advertising will help the company's brand awareness. New marketing channels like social media marketing & YouTube marketing is also a great opportunity for the company to increase its sales.
Large Market: It is estimated that over 34 million watches are sold worldwide each year, offering a tremendous opportunity for the Tissot brand to be manufactured and marketed.
Threats in the SWOT Analysis of Tissot – Tissot SWOT Analysis
Intense Competition: Tissot has severe competition in the watch industry, which poses a significant challenge to the corporation. The competitors provide a wide selection of products in a number of areas and styles.
Fake Goods: Fake imitations and various sorts of duplication of Tissot branded watches are making an impression on the market. As a result, its reputation suffers.
Government Regulations: The corporation is influenced by a range of government legislation that are often passed, notably those relating to imported and luxury items. This poses a significant danger to the company.
Increasing Trend of Mobile Phones & Other Digital Devices: Mobile phones and other digital devices are replacing timepieces – Mobile phones and other digital devices are replacing timepieces. In actuality, this represents a huge threat to the company's operations.
If you like this article you can recommend your friends about PROJECTS4MBA.COM
If you like This Article Please Like our Facebook Page PROJECTS4MBA
Cite This Work
Referencing Style to cite this article:
[citationic]